Hastings Caves and Thermal Springs
Hastings Caves And Thermal Springs
just 10 minutes away from the Ida Bay Railway
The Hastings Caves State Reserve offers visitors a variety of experiences, from relaxing in the warm waters of a thermal springs pool, walking in the rich forests of the reserve and, of course, the unique experience of exploring Newdegate Cave. Both the thermal pool and the trail which leads through the surrounding forests are accessible to wheelchair users.
Named after Sir Francis Newdegate, the Governor of Tasmania from 1917-1920, Newdegate Cave is the largest tourist cave in Australia which occurs in dolomite, rather than limestone.
Its richly decorated chambers began forming tens of millions of years ago. Don't miss the opportunity to take a tour of the cave with qualified Parks and Wildlife Service guides.
11 April 2018 – 30 September 2018
Thermal Pool and Visitor Centre: Open 10.30 a.m. to 4.00 p.m.
*Cave Tours 11.30; 12.30; 2.15; 3.15
1 October 2018 – 24 December 2018
Thermal Pool and Visitor Centre: Open 10.30 a.m. to 4.00 p.m.
*Cave Tours 11.00; 12.00; 1.00; 2.00; 3.00
25 December 2018 – Closed
26 December 2018 – 31 January 2019
Thermal Pool and Visitor Centre: Open 9.00 a.m. to 5.00 p.m.
*Cave Tours 10.00; 11.00; 12.00; 1.00; 2.00; 3.00; 4.00
Important Information: Please ensure you arrive at the Visitor Centre 30 minutes before the advertised tour time, after ticket purchase there is a further 5km drive to the cave carpark, and a short walk to meet your guide at the entrance to the cave.
Please purchase your tickets for cave tours at the ticket office. Cave tour tickets include pool entry, access to BBQs, walks and facilities. The cave tour takes approximately 45 minutes.
Purchase your souvenirs from the Parks Shop and snacks from the kiosk (pies, toasted sandwiches, biscuits, confectionary, icecreams and drinks).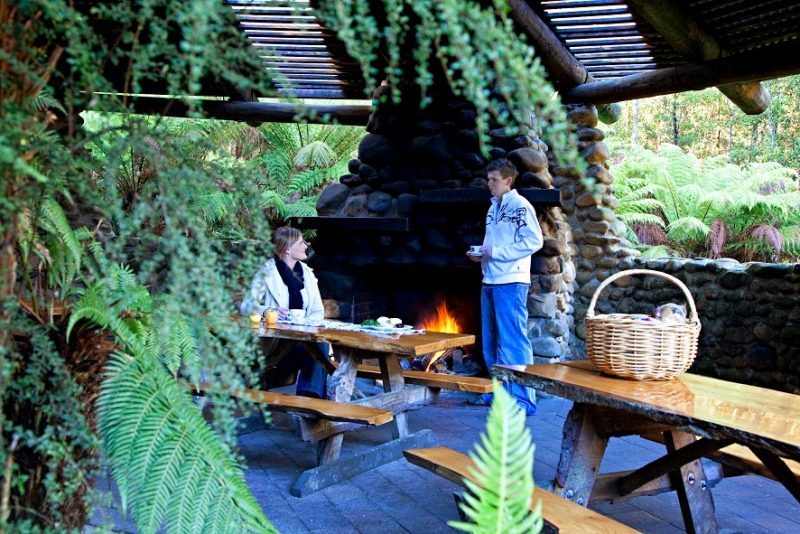 Hastings Caves and Thermal Springs in the Huon Valley (Southern Trove) is a 90-minute drive south of Hobart.
Formed millions of years ago, the dolomite cave is one of two show caves found in Australia. Guided tours are available with a Parks and Wildlife Service guide. You will discover spectacular subterranean formations including flowstone, stalactites, columns, shawls, straws, stalagmites and the unusual helictites. The cave is spacious there are no narrow passages.
Each way inside the cave are 250 stairs, all equipped with handrails.
Opening hours and cave tour times vary throughout the year, so we recommend you check times before arrival. You must arrive at the Hastings Visitor Centre 20 – 30 minutes prior to your tour.
This is where you purchase tickets for cave tours or the thermal springs reserve. You can swim in the thermal swimming pool, fed by thermal spring water. The pool temperature is a tepid 28 degrees Celsius; outdoor temperature is often very cool. Forest and ferns with picnic/barbecue areas surround the pool, change room amenities are next to the pool. Light snacks and souvenirs are available in the Visitor Centre.

FACILITIES
Barbeque
Carpark
Family Friendly
Food and Refreshments
Non Smoking
Picnic Area
Public Toilet
Shop
Swimming Pool